Florida State University
FSU | Florida State University News
Florida State University News
The Official News Source of Florida State University
Home / News / University News / Year in Review: FSU sets foundation for future success in 2022
By: University Communications | Published: | 2:57 pm | SHARE:



Florida State University enjoyed a remarkable year of achievements while setting a foundation for future success by launching the new FSU Health initiative, breaking ground on the College of Business' Legacy Hall and celebrating the inauguration of President Richard McCullough.
FSU placed in U.S. News and World Report's list of Top 20 public national universities for the fourth consecutive year, posted record graduation rates, opened its new state-of-the-art student union and received a renewal of funding to keep the world's most powerful magnet lab headquartered at the university.
Florida State University reaffirmed its No. 19 ranking among public national universities in the U.S. News & World Report's "Best Colleges 2022-2023″ guidebook, placing in the Top 20 for the fourth consecutive year. U.S. News also ranked the university as No. 55 among all national universities, both public and private.
Florida State University also earned a No. 13 ranking by Niche among all public universities in the United States. Niche creates profiles of every college in the United States using data from the U.S. Department of Education and student and alumni ratings.
FSU recorded its best six-year graduation rate in university history at 85%, according to data from the State University System's 2023 Accountability Plan. The university's graduation rates continue to rise thanks to an increased investment in student success, including additional support for academic advising staff and the expansion of the Center for Academic Retention & Enhancement, or CARE, which supports first-generation students.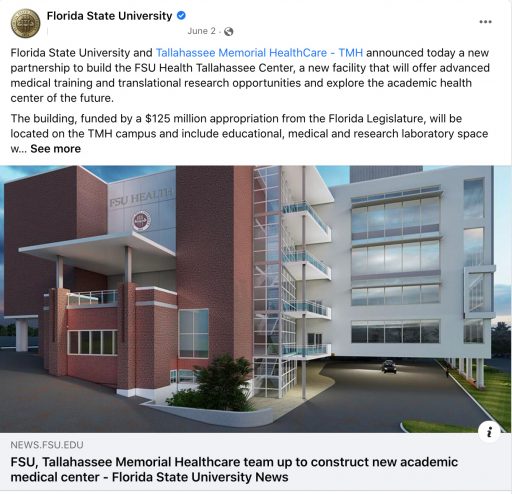 Florida State University officials have been working to lay the groundwork for FSU Health, a health care ecosystem poised to transform health care delivery in North Florida. Fueling the initiative is $125 million from the Florida Legislature to build a new academic health center in Tallahassee, which will be located on the Tallahassee Memorial HealthCare campus. The project promises to transform health care delivery, education and biomedical research in the region and make Tallahassee a health care destination. The vision for FSU Health extends to Panama City and throughout the booming Panhandle region. The St. Joe Company has signed an agreement with FSU and Tallahassee Memorial HealthCare to build a new medical office building and hospital in Panama City Beach.
The National High Magnetic Field Laboratory will receive $195.5 million over the next five years, a move that keeps the world's most powerful magnet lab headquartered at Florida State University, with partner sites at the University of Florida and Los Alamos National Laboratory and supports groundbreaking discoveries using high field magnets.
This funding will help the MagLab continue its world-renowned research that helped its engineers and technicians win a 2022 R&D 100 Award — often referred to as "The Oscars of Innovation" — for the design and construction of the 32 tesla (T) Superconducting Magnet.
Florida State University celebrated the inauguration of its 16th president, Richard McCullough, with a formal investiture ceremony in February. The ceremony took place in Ruby Diamond Concert Hall before a crowd that included family, friends, city and state officials and academic luminaries from across the country. McCullough told the story of his humble beginnings in Mesquite, Texas, and of his rise through the ranks of academia. The president also shared some of the ambitious vision he has for Florida State, setting goals of rising to the Top 10 of national public universities and earning membership in the Association of American Universities.
FSU's new Student Union officially opened its doors to the university's students and faculty during a ribbon-cutting ceremony this fall. The new union boasts an expanded bookstore, art studio, bowling alley and sports bar, restaurant food court and gathering space for Club Downunder.
FSU also celebrated the groundbreaking on Legacy Hall in October — the new home of the College of Business. This new facility is expected to be a hub of business education, collaboration and development for FSU, elevating the college's reach nationally and globally.
Florida State University received nearly 80,000 applications for 2022, marking the sixth consecutive year that the university received a record number of first-year applications. The admitted class reflects unprecedented geographic diversity, with students from all 50 states and 42 countries around the world.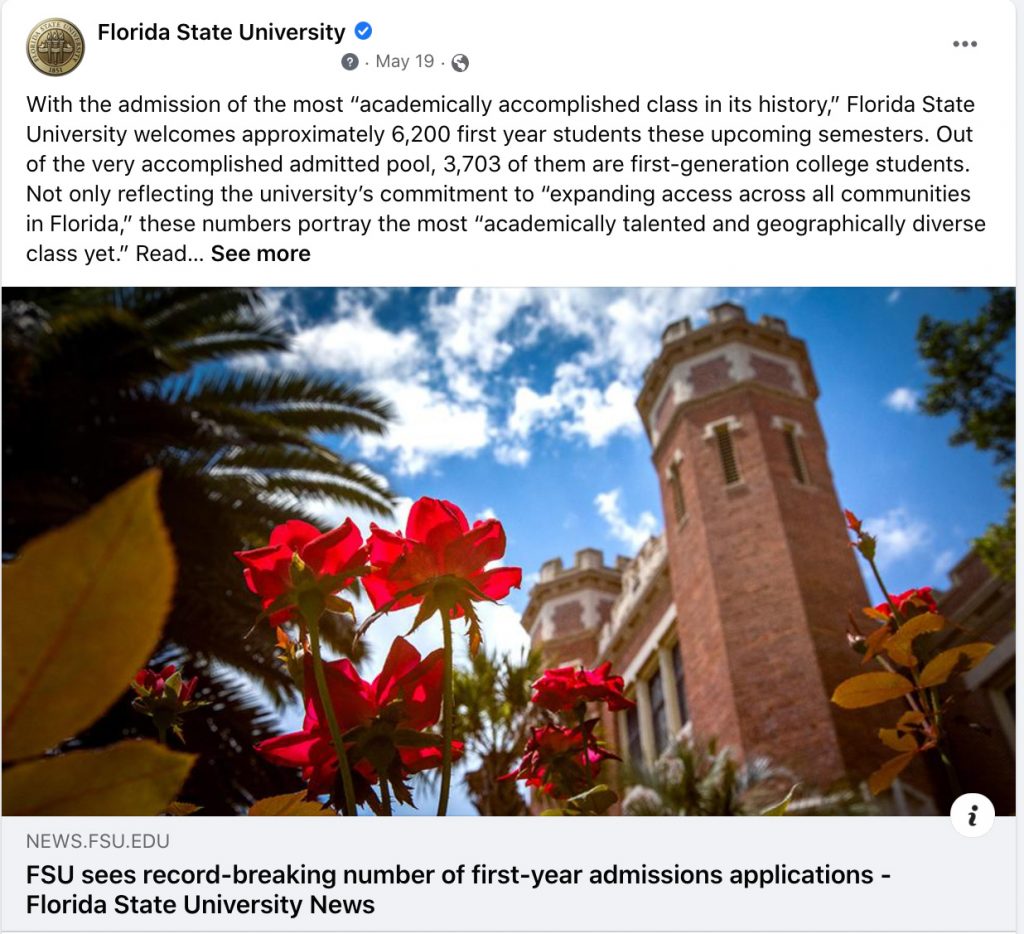 As part of its expansion of health care and clinical research, Florida State University added two esteemed digital health experts with long records of funding from the National Institutes of Health to its ranks, Lisa Hightow-Weidman and Kathryn Muessig. The pair will create the new Institute on Digital Health and Innovation to emphasize the use of digital tools in health education and train students and postdoctoral fellows through research. The institute, part of the College of Nursing, will be a major advocate for the collaboration between Florida State University and North Florida health care entities.

Florida State University accepted its ninth consecutive Higher Education Excellence in Diversity (HEED) award and seventh consecutive Diversity Champion status from INSIGHT Into Diversity magazine, the oldest and most prestigious diversity-focused publication in higher education.
Florida State University's Jim Moran College of Entrepreneurship has kept its No. 19 spot in the Princeton Review's latest rankings of the nation's top undergraduate entrepreneurship programs.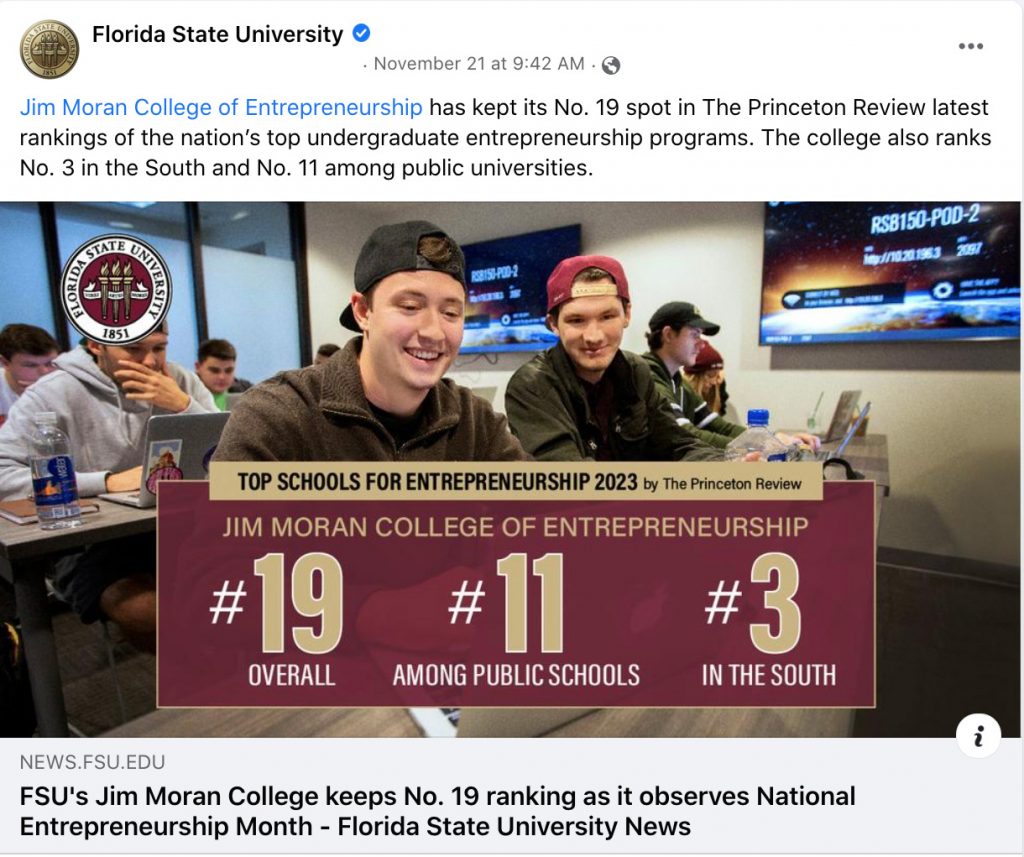 Two FSU students earned the Barry Goldwater Scholarship, a renowned national award that annually recognizes outstanding science, mathematics and engineering sophomores and juniors for their research experiences and potential. Dhenu Patel, a junior majoring in exercise physiology, and Sophie Allen, a sophomore majoring in physiology and biomathematics, were awarded up to $7,500 toward tuition, fees, books, and room and board.
Abril Hunter, an environmental science and policy major, was named a 2022 Truman Scholar, which is among the most coveted undergraduate awards in the country. The merit-based scholarship awards money to undergraduate students who desire to attend graduate or professional school to pursue careers in government, the nonprofit sector or elsewhere in public service.
Awards and recognitions continue to garner national attention for FSU faculty and researchers.
A record number of Florida State's faculty members won the National Science Foundation's prestigious CAREER award in 2022. Seven FSU researchers earned the award, which recognizes up and coming scientists and helps recipients build their research and teaching portfolios by providing funding for their labs and giving them opportunities to develop their professional endeavors.
Distinguished Professor in Engineering Fang Zheng Peng, who pioneered power conversion technology, has been named a fellow of the National Academy of Inventors. Peng is one of 169 distinguished academic inventors who are part of this year's NAI class.
In addition to these important research awards, FSU was ranked No. 57 worldwide among universities for producing U.S. utility patents in 2021, according to a report from the National Academy of Inventors and the Intellectual Property Owners Association.
The work of Florida State University researchers garnered worldwide media coverage in 2022, including studies about lead exposure and lower IQ scores, a link between aspartame and anxiety, and a connection between COVID-19 and personality changes.
Federal and state agencies, along with private companies, continue to fund FSU research at record levels.
Researchers at the FAMU-FSU College of Engineering will help NASA advance the future of sustainable aviation as part of a five-year, $10 million project, developing a hybrid electric power system that uses turboelectric generators and fuel cells. The funding comes as part of NASA's University Leadership Initiative program.
FSU researchers also received nearly $9 million from the National Academies of Sciences, Engineering and Medicine's Gulf Research Program to improve predictions of water currents in the Gulf of Mexico that impact critical oil and gas infrastructure, fisheries management and extreme weather events.
Florida State track star Trey Cunningham earned national and global accolades for his record-breaking hurdles and speed. He won the 60-meter hurdles national title at the NCAA Indoor Track and Field Championships in March, and then won the 110-meter hurdles national title at the NCAA Outdoor Championships in June.
News Topics
Multimedia
About FSU
For Journalists
© Florida State University
Tallahassee, FL 32306