in Books, Current Affairs | August 22nd, 2022 10 Comments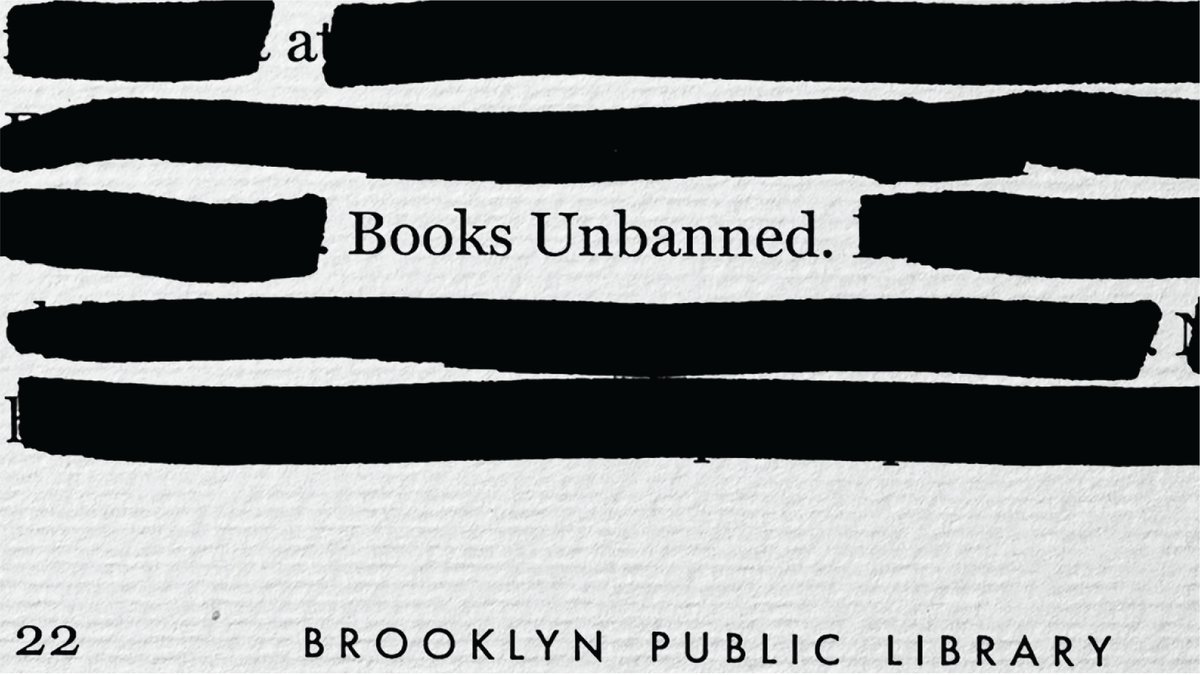 We have covered it before: school districts across the United States are increasingly censoring books that don't align with white-washed conservative visions of the world. Art Spiegelman's Maus, The Illustrated Diary of Anne Frank, Alice Walker's The Color Purple, Toni Morrison's The Bluest Eye, and Harper Lee's To Kill a Mockingbird–these are some of the many books getting pulled from library shelves in American schools. In response to this concerning trend, the Brooklyn Public Library has made a bold move: For a limited time, the library will offer a free eCard to any person aged 13 to 21 across the United States, allowing them free access to 500,000 digital books, including many censored books. The Chief Librarian for the Brooklyn Public Library, Nick Higgins said:
A public library represents all of us in a pluralistic society we exist with other people, with other ideas, other viewpoints and perspectives and that's what makes a healthy democracy — not shutting down access to those points of view or silencing voices that we don't agree with, but expanding access to those voices and having conversations and ideas that we agree with and ideas that we don't agree with.
And he added:
This is an intellectual freedom to read initiative by the Brooklyn Public Library. You know, we've been paying attention to a lot of the book challenges and bans that have been taking place, particularly over the last year in many places across the country. We don't necessarily experience a whole lot of that here in Brooklyn, but we know that there are library patrons and library staff who are facing these and we wanted to figure out a way to step in and help, particularly for young people who are seeing, some books in their library collections that may represent them, but they're being taken off the shelves.
As for how to get the Brooklyn Public Library's free eCard, their Books Unbanned website offers the following instructions: "individuals ages 13-21 can apply for a free BPL eCard, providing access to our full eBook collection as well as our learning databases. To apply, email bo***********@bk**********.org." In short, send them an email.
You can find a list of America's most frequently banned books at the website of the American Library Association.
NOTE: We're seeing reports on Twitter that a teacher in Norman, OK has been terminated for letting a student know about the Brooklyn Public Library's free library. While this report hasn't been fully substantiated, teachers who want to recommend this resource should proceed with caution. Parents could seemingly refer BPL's free library to students with less concern about retaliation.
via KTVB
If you would like to sign up for Open Culture's free email newsletter, please find it here.
If you would like to support the mission of Open Culture, consider making a donation to our site. It's hard to rely 100% on ads, and your contributions will help us continue providing the best free cultural and educational materials to learners everywhere. You can contribute through PayPal, Patreon, Venmo (@openculture) and Crypto. Thanks!
Related Content 
Texas School Board Bans Illustrated Edition of The Diary of Anne Frank
Tennessee School Board Bans Maus, the Pulitzer-Prize Winning Graphic Novel on the Holocaust; the Book Becomes #1 Bestseller on Amazon
The 850 Books a Texas Lawmaker Wants to Ban Because They Could Make Students Feel Uncomfortable
Umberto Eco Makes a List of the 14 Common Features of Fascism
by OC | Permalink | Comments (10) |
We're hoping to rely on our loyal readers rather than erratic ads. To support Open Culture's educational mission, please consider making a donation. We accept PayPal, Venmo (@openculture), Patreon and Crypto! Please find all options here. We thank you!

So, once again, there is no "ban" on books in the states that you're suggesting. Like Maus or Anne Frank diary according to Snopes.com: "the Keller ISD website, each of the two books had apparently been challenged by a lone parent." Also most of the other so-called banned books are still on the library shelves and not challenged by any teachers or faculty, most of them are just not taught in their curriculum. This is just left-wing radicals trying to make red states look like crazy, book burning nazis. All of the media talking about "banned books" could easily be fact-checked.
It wouldn't be "Open" Culture if there weren't a regular desperate attempt to smear "conservatives" with exactly what leftists love–tyranny, censorship (only "disinformation," of course!), and fascism. But it's a character issue. The same ones who love violent, oppressive government think nothing of lying and cheating to achieve their goal (see: Sam Harris's recent admission about stealing the 2020 election)…the scorpion and frog tale, that kind of thing. "Accuse your enemies of what *you* do." – Karl Marx
"Attached is a list of all books that were challenged last year. By the end of today, I need all books pulled from the library and classrooms. Please collect these books and store them in a location. (book room, office, etc.)," Price wrote in the email on Tuesday.
That's the USA today report on Keller . . . the email itself speaks to removal from the libraries (not to say a narrow minded approach to removing from curriculum is a nonevent, though, but since library access was you main point).
Detailed PEN report — including specific instances of library removal catalogued here. I think they did fact check this quite carefully. I get your not wanting your state to be villified (thinking you may be in a red one) but please do consider that besides the rhetoric there really is a disturbing trend there.
https://pen.org/banned-in-the-usa/
Anybody on Open Culture is no doubt happy to check out the sources — so do check out the Pen report.
No doubt somebody reading on Open Culture is pretty thoughtful, so I wanted to pass along the detailed reporting on banned books (including those pulled from shelves, not just curriculum) done by PEN. Read down for the chart on the attached.
https://pen.org/banned-in-the-usa/
It's a real issue, and for that matter I think it's also a problem when there is a narrow minded group of parents easily knocking things out of the curriculum. But your focus was on actually pulled from shelves censorship (so there's the PEN report for that).
FWIW, not sure on the current status at Keller – but USA Today included the direct text from the email that preceded the "review"
"Attached is a list of all books that were challenged last year. By the end of today, I need all books pulled from the library and classrooms. Please collect these books and store them in a location. (book room, office, etc.)," Price wrote in the email on Tuesday.
Rhetoric gets hot on this topic, but there actually is a "there" there generally even if those books get back on the Keller shelves.
Kyle,
If books are being pulled from shelves, then they are essentially being censored, which is how our post frames it.
As for the Brooklyn Public Library, they refer to banned books. Some schools have outright banned books. Others have removed books from shelves, without outright banning them. In each case, the net effect on students is the same–their intellectual freedom is being limited. Your parsing of words doesn't change the bottom line.
OC
Well said OC.
Fascism is a far-right ideology dum dum. It has nothing to do with leftism. Regardless of your political alignment the censorship of books in PUBLIC libraries is a blatant violation of the first amendment and something that authoritarians love.
Exactly right, Kyle.
Because this is what red states do. They bully and whine at anything that isn't defined within their narrow–often uninformed –scope of what THEY think is acceptable. I've never seen a group more afraid of knowledge and ideas. It's pretty pathetic.
Ideology aside,the well meaning initiative to give library membership to thousands non Brooklyn residents will, potentially, increase my wait time for available ebooks. It is long enough as it is.

Get the best cultural and educational resources on the web curated for you in a daily email. We never spam. Unsubscribe at any time.
FOLLOW ON SOCIAL MEDIA




Open Culture scours the web for the best educational media. We find the free courses and audio books you need, the language lessons & educational videos you want, and plenty of enlightenment in between.
Subscribe
©2006-2023 Open Culture, LLC.
All rights reserved.
if you like our Facebook fanpage, you'll receive more articles like the one you just read!